While some will have you believe that the only 'toxic' Star Wars audiences are the men who don't like women in their movies, give progressives enough time and they always end up exposing their own agenda. In an interview with The Guardian, Daisy Ridley, who plays the lead role of Rey in Disney's Star Wars film trilogy, denied that she was at all privileged, which rubbed the intersectional crowd the wrong way.
"The privilege I have – how? No, genuinely, how?,"

"Well no, because, no… John grew up on a council estate in Peckham and I think me and him are similar enough that… no."

"I'm not saying what you're saying is wrong. I've just never been asked that before, so I'm like, oh. I don't think so."
Once the interview went viral, Ridley was attacked by social media for daring to say that as a white woman, he didn't feel more privileged than a black man.
this is one of the most appalling out of touch things iv ever read

she argues that it was a "large chatty family" that gave her the confidence to be an actor and not 9 years at a specialist Performing Arts boarding schoolhttps://t.co/UKnwtqTQEs

— callum berridge (@callum_berridge) December 7, 2019
one of the most appalling things abt this daisy ridley interview is that in her 4yrs of headlining one of the biggest franchises on earth, this is, so painfully evidently, the very first time anyone has truly invited her to critically confront & examine her own privilege.

— ham yoyo 🚀💫 (@scifibis) December 7, 2019
Truly hope Daisy now realises that the fact she didn't think she was privileged and had never had to think about it is, in fact, a sign of her privilegehttps://t.co/ThiJvH5G8q

— Nọ́lá Thee Journalist (@NolaMarianna) December 7, 2019
LMAO, Hollywood peeps doing the most today. That Daisy Ridley doesn't think she's privileged and actually compares herself to John Boyega growing up on a council estate… the state 🤦🏽‍♂️ https://t.co/veqn6lkJne

— Tufayel Ahmed 📚 buy #ThisWayOut, out now! (@tufayel) December 7, 2019
Daisy Ridley thinking she doesn't have white privilege is peak white privilege #StarWarsTheRiseOfSkywalker https://t.co/bmQfqU9rhv

— Femestella (@femestella) December 9, 2019
Daisy Ridley does not understand white privilege & doesn't think she has privilege https://t.co/TLAUhARial

— Kaiser@Celebitchy (@KaiseratCB) December 8, 2019
Twitter user Dataracer117 compiled a list of even more tweets condemning Ridley.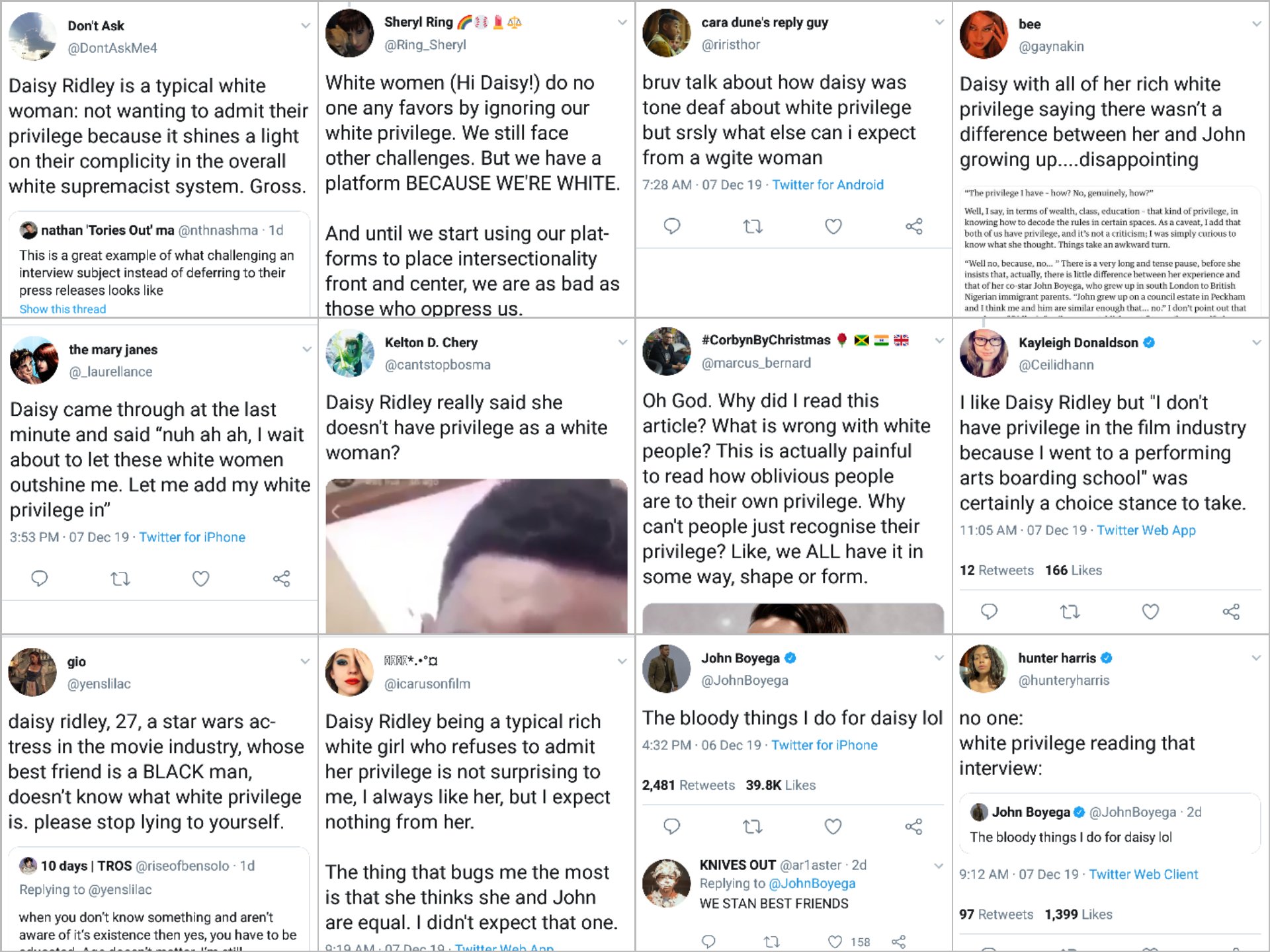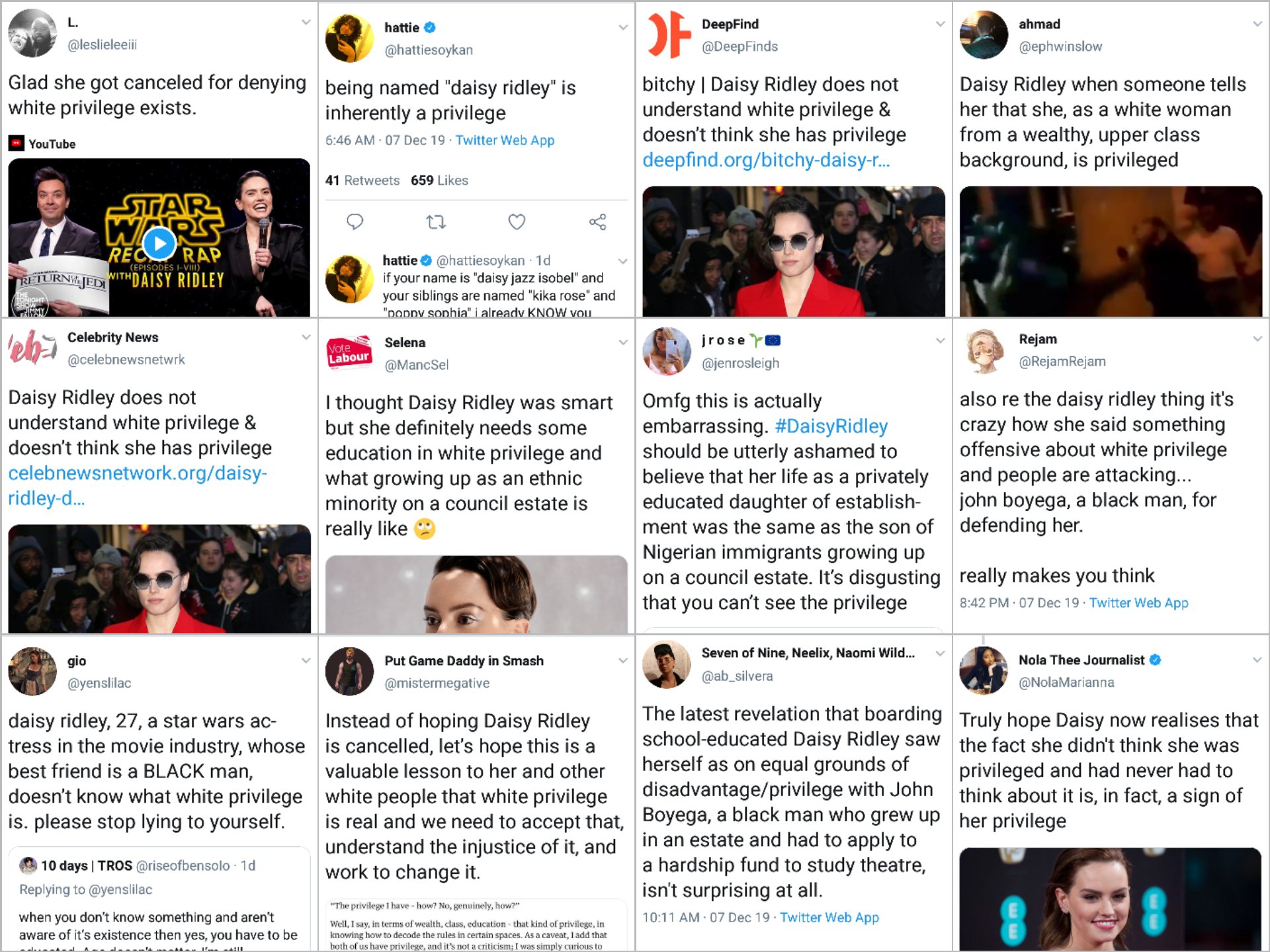 The media ran with the narrative that Toxic Star Wars fans chased Daisy Ridley off of social media years ago, it will be interesting to see if they proceed with that narrative going forward.
Don't forget to Subscribe for Updates. Also, Follow Us at Society-Reviews, YouTube, Instagram, Twitter, Odysee, Twitch, & Letterboxd