Last weekend, Disney announced a laundry list of superhero characters they plan on bringing to their new streaming service Disney+ in the coming months. One of those characters happens to be the Kamala Khan version of Ms. Marvel. Ms. Marvel was rebooted years ago, from the sultry Carol Danvers to Muslim teenager Kamala Khan. The character is more celebrated for its representation than her feats so it's no surprise Disney was eager to make a series about it. However, it seems like the person in charge of the new project has a few skeletons in their closet that someone is trying to hide.
British writer Bisha K. Ali is set to write the Disney series and act as showrunner. A quick look at Ali's Twitter page shows that she is a progressive feminist but when the announcement started making waves on the internet, it turns out that Ali had locked out all of her social media accounts and began deleted thousands of posts…five thousand to be exact.
Washington Times writer Douglas Ernst was the first to notice that something was wrong with this picture. With a little help from his Twitter followers, they discovered that some of the tweets that Ali had scrubbed involved her ranting fascist and racists. Many of her posts directly call the United States and The United Kingdom racist. Numerous screenshots were taken which shows some of Ali's deleted views that someone thought would drive people away from the new series.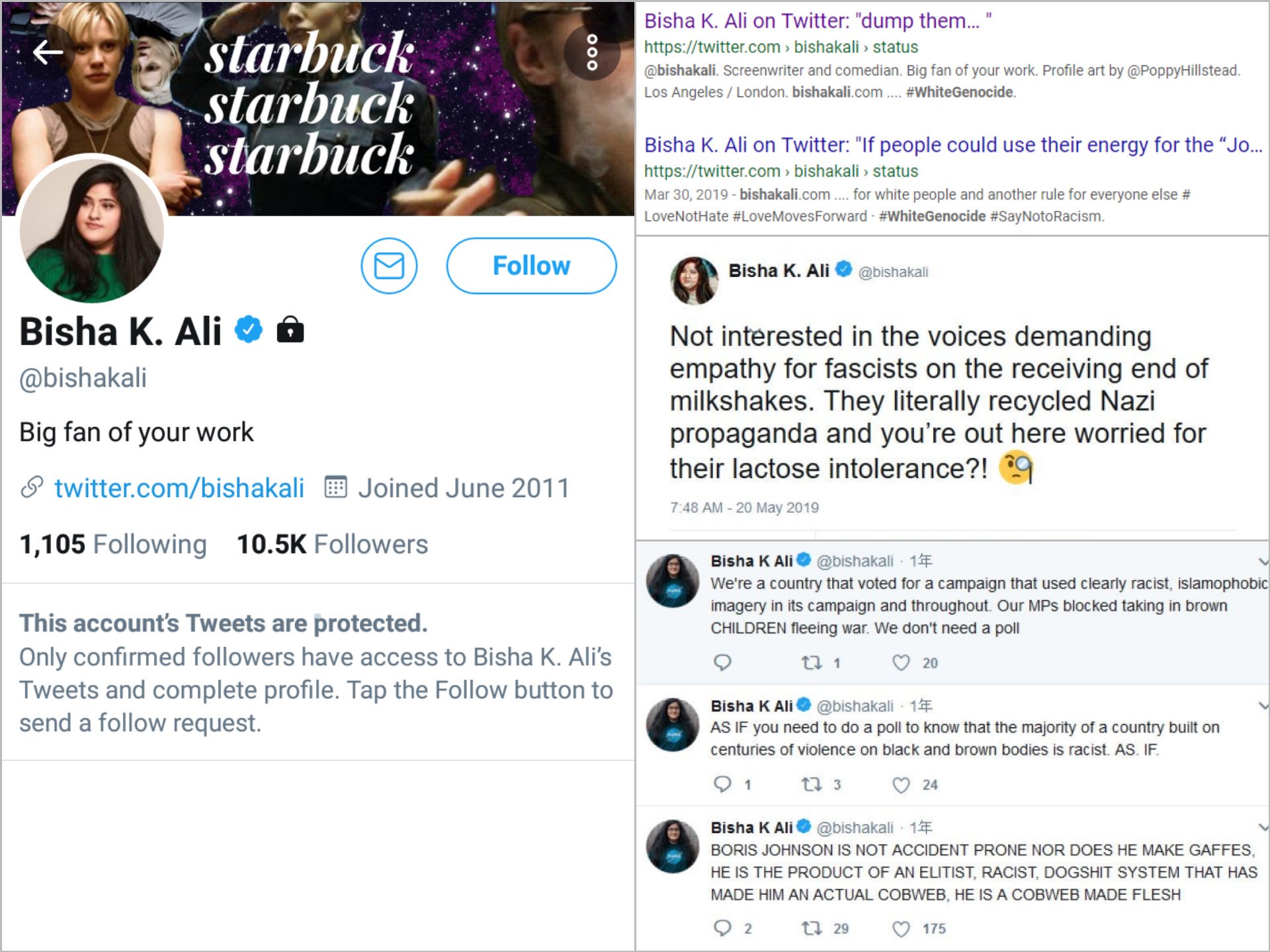 There was also evidence to suggest that many of Ali's posts attacked white people as the responses to her deleted tweets attacked whites as well. A twitter user later confirmed that Ali indeed deleted thousands of tweets prior to the announcement showing that damage control was done to prevent any blowback on the company.
I posted on Doug's everything I could find. Her twitter (& all social media) was locked down previous to the announcement. Mass deletions were done 7/29-7/31, 80 were deleted on 4/10. I'm willing to bet that Disney told her to do so in a effort to avoid potentially embarrassment. pic.twitter.com/Z1Fpbajmsi

— Spoon89 🇺🇸 🇲🇽 (@Spoon891) August 25, 2019
Does Disney have another James Gunn situation on their hands?
Don't forget to Subscribe for Updates. Also, Follow Us at Society-Reviews, YouTube, Instagram, Twitter, Odysee, Twitch, & Letterboxd