A few days ago, we reported that Vox's Carlos Maza was actively campaigning for  Conservative comedian Steven Crowder channel to be removed from the platform due to bullying and harassment after Crowder did a video rebuttal to Vox's claim that Fox News and Conservatives control the nation's media as well as the stories that trend in the news cycle.
After nearly a week nonstop of demanding YouTube take action against Crowder, they initially responded that Crowder did not, in fact, violate their terms of service. However, after the Washington Post later wrote an article condemning the outlet for refusing to punish him, Youtube has backtracked and decided to remove all monetization from his channel.
On Tuesday, Youtube initially responded by explaining that Crowder despite Maza's demands did not violate their terms of service.
Youtube:

Thanks again for taking the time to share all of this information with us. We take allegations of harassment very seriously–we know this is important and impacts a lot of people.

Our teams spent the last few days conducting an in-depth review of the videos flagged to us, and while we found language that was clearly hurtful, the videos as posted don't violate our policies. We've included more info below to explain this decision

As an open platform, it's crucial for us to allow everyone–from creators to journalists to late-night TV hosts–to express their opinions w/in the scope of our policies. Opinions can be deeply offensive, but if they don't violate our policies, they'll remain on our site.

Even if a video remains on our site, it doesn't mean we endorse/support that viewpoint.

There are other aspects of the channel that we're still evaluating– we'll be in touch with any further updates.
Then comes the Washington Post, reporter Eli Rosenberg quickly responded to Youtube's decision by writing an article entitled "A right-wing YouTuber hurled racist, homophobic taunts at a gay reporter. The company did nothing". Rosenberg claims that Crowder targeted Maza for being gay and Latino while completely ignoring the context of Crowder debunking Vox's progressive videos, not targeting Maza himself.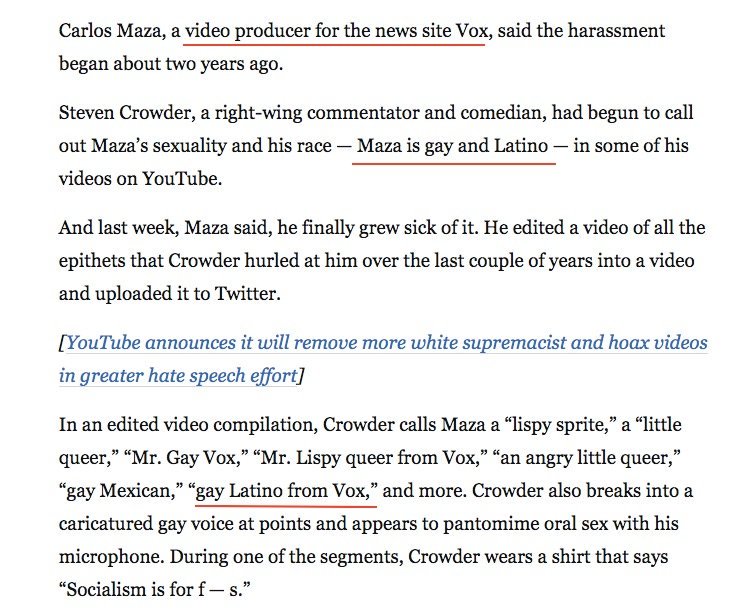 After the piece was quickly spread by other writers at the Washington Post, YouTube backed down from their decision and announced they were suspending all monetization for Crowder.
Update on our continued review–we have suspended this channel's monetization. We came to this decision because a pattern of egregious actions has harmed the broader community and is against our YouTube Partner Program policies.
So to recap, reporters from Vox AND The Washington Post teamed up to force YouTube to take action against independent YouTubers, and the community is NOT happy.
Crowder has responded with a warning that a mass demonetization spree is coming and it will affect for more creators than him.
With Youtube cracking down on creators with the assistance of their friends in major media outlets, we recommend more people check out BitChute and DailyMotion as alternatives.
Don't Forget to Like and Subscribe to Twitter and Minds For Updates. Also, Follow This Blog at Society-Reviews