UPDATE: Chicago Police are now saying that there is no report of the alleged attackers saying "This is MAGA country." as the original TMZ report suggests.
Empire star Jussie Smollett is claiming that he was brutally attacked by 2 masked white men who beat him up, put his head in a noose and screamed, "This is MAGA country". In a story that was initially reported by TMZ, Smollett who was in Chicago to film some of the latest episodes of the Fox TV series 'Empire' was out around 2 AM near a local Subway when 2 men, both white and wearing ski masks, reportedly yelled "Aren't you that faggot 'Empire' nigger?" The men then proceeded to viciously attack Jussie as they fractured his rib, put a rope around his neck, poured bleach on him, and as they left, they yelled, "This is MAGA country."
Jussie took himself to Northwestern Memorial where he was treated. He was discharged later Tuesday morning. Chicago PD says they are investigating the attack as a possible hate crime.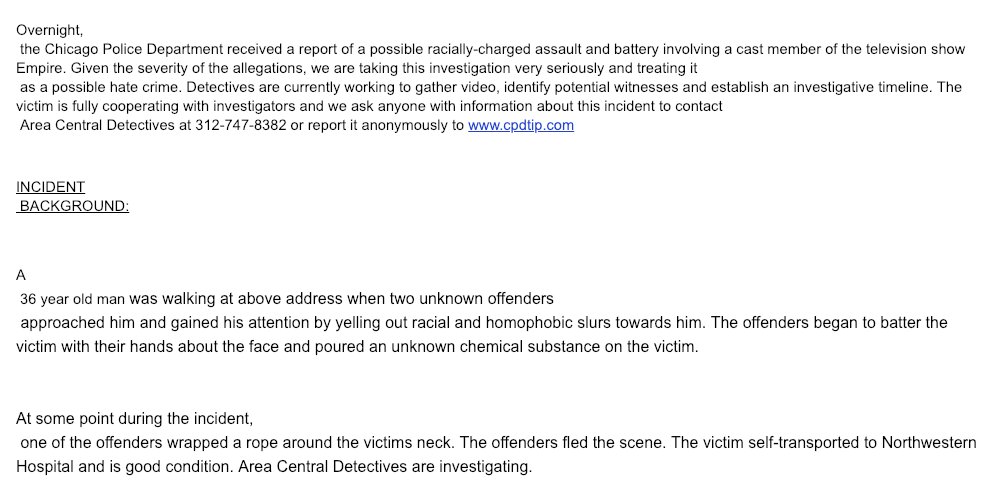 As of this writing, there are no witnesses or evidence of the alleged attack, however, a threatening note was sent to the actor in Chicago about 8 days ago suggesting he was targeted. Some media outlets such as Deadline Hollywood reported that the attackers wore MAGA (Make America Great Again) hats but quickly deleted those reports have they have not been proved.
Don't forget to Subscribe for Updates. Also, Follow Us at Society-Reviews, YouTube, Instagram, Twitter, Odysee, Twitch, & Letterboxd